A nursing home neglect lawyer can help bring an elderly abuse negligence case against nursing homes in Camden, South Carolina that do not operate with a proper license, or in accordance with the laws and regulations set forth for nursing homes in South Carolina.
If you suspect elderly abuse, contact a Camden personal injury lawyer today for a case evaluation.
The license is issued by the Department of Labor, Licensing, and Regulation. Only those nursing homes that comply with federal laws and state laws are approved. There are 188 nursing homes in South Carolina, all of which are listed on the Medicare website. Out of these 188 nursing facilities, only 22% have a 5-star rating. The rest of them fail to meet most standards related to staffing, quality measures, health inspections and overall services. With so many elder care facilities operating at a poor level, there is an increase in the chances of your loved one suffering from nursing home abuse while living in South Carolina.
A Lawyer for Nursing Home Negligence can Defend the Rights of Your Loved Ones in Camden Nursing Homes
State laws in South Carolina are based on the Bill of Rights for Residents of Long-Term Care Facilities. As per this Bill, each resident must be informed of the financial charges they will incur when they are being admitted to the nursing home as well as the different services and other service charges of the facility. Prospective residents must also be informed about the facility's refund policy.
The law also clearly states that resident's' guardians have the right to choose a personal physician for their loved ones. They also have the right to participate in the planning of care. If any changes occur with respect to the resident's care or treatment protocol, the guardian must be informed of these changes.
All residents must also be treated with dignity and respect at all times and should be provided the privacy they need during any personal treatment sessions and procedures. Their personal possessions are required to be stored in a secure location to avoid the risk of theft or damage. Residents cannot, under any circumstances, be discriminated against based on their sex, color, religion, origin, etc.
The law is also very firm on abuse and clearly states that nursing home residents must be free from any form of mental or physical abuse. However, despite such clear and specific laws, nursing home abuse is very common in South Carolina.
Nursing Home Negligence Lawyer Against Abuse & Neglect
Many nursing home residents in South Carolina have suffered significantly and have been victims of falls, abuse, pressure sores, medical errors and inadequate care. Numerous residents have filed lawsuits against nursing homes and have recovered damages. The most costly and the most common of all these accidents are falls. Falls can cause significant physical damage to residents as they can result in broken bones, concussions, scars and in worst case scenarios, death.
Another problem is that a large number of residents living in nursing homes suffer from multiple medical conditions that are physically and emotionally debilitating. These include diseases like dementia, Alzheimer's, arthritis, atrial fibrillation, etc. Such patients require extra care, and it is the responsibility of the nursing staff to provide it to them. However, on many occasions, nursing home facilities that are sub-par employ healthcare providers who are careless and who leave residents unattended.
This lack of responsibility can result in serious consequences. In addition, substandard nursing homes do not even provide proper training to their employees and thus fail to provide proper care to residents.
Signs of Nursing Home Abuse & Neglect
Families and guardians of residents in nursing homes should always be on the lookout for indicators of abuse. These include:
Broken bones or contusions
Falls
Weight loss
Bad health
Split clothing
Bed sores
Medication errors and/or overdose
Prescription discrepancies
Contamination
Evidence of sexual abuse
If you observe any of these signs, you must investigate, and you should consult a nursing home abuse lawyer to find out how you can deal with this abuse and protect your loved one. Always conduct your own research both before you select a nursing home and after admission. Be observant and monitor how the patient is being treated. Don't just think that just because nursing homes should abide by the law, that means they will, because many nursing homes in South Carolina continue to neglect patients.
You do not want to let things go out of hand, and you certainly don't want a family member to be put at risk. If you see something out of the ordinary, take action immediately by reaching out to an experienced South Carolina nursing home abuse lawyer.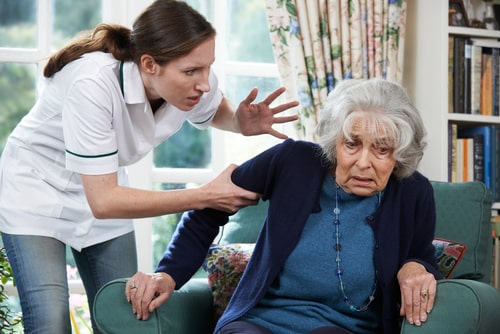 What Can I Do About Nursing Home Abuse in Camden, South Carolina?
At Connell Law, we understand that when people put their loved ones in nursing homes, they put their trust in the nursing home staff and facilities. From their perspective, they think that a nursing home would suit their loved ones better because they will be able to receive care and support 24 hours a day, seven days a week. It is unfortunate that many nursing homes betray this trust and fail to do right by the patients and their families.
There have been many nursing home abuse cases where the health of residents went from bad to worse after a fall or a medication error. Since these residents are already weak and vulnerable, even the smallest mistake can prove fatal for them.
Even if these irresponsible actions or accidents do not result in the death of a resident, there can be health consequences that could result in high medical expenses for family members. There is no way any nursing home facility can justify this irresponsible and negligent behavior.
That is why if you or your loved ones have been a victim of nursing home abuse, you should contact a nursing home abuse lawyer immediately. It is your legal right to seek damages and to hold the nursing home accountable for their actions.
It is also extremely important to conduct adequate research before you trust any nursing home to take care of a loved one. With so many nursing homes in South Carolina, you must check and double check if the facilities you've short-listed are reputable.
There are some nursing homes in South Carolina for example that do not have a good reputation. These include:
Springdale Healthcare Center
Wildewood Downs Nursing and Rehabilitation Center
C M Tucker Nursing Care Center/Roddey
Blue Ridge in the Fields, LLC
Life Care Center of Columbia
Pruitthealth Ridgeway
According to one study, South Carolina is one of the worst states in terms of elder abuse protection laws. South Carolina was among the five states found to have the highest number of cases involving elder-abuse, neglect, and exploitation complaints. South Carolina was also reported to have the lowest total expenditures on elder abuse prevention.
People who intend to put their family members and/or loved ones in nursing homes need to be aware of these facts and need to ensure that they are making the right decision and are trusting a healthcare facility that has all the right systems in place and has a well-trained, responsible and high-quality staff.
All these statistics, as well as the increasing number of complaints and lawsuits against nursing homes in South Carolina, are a major area of concern.
This is especially true since it is estimated that by 2029, more than a fifth of the population in the US will comprise of individuals aged 65 or older. If abuse and neglect of these elderly patients continue to increase at the same rate and if no action is taken against this abuse and neglect, it can have detrimental effects on senior citizens in the US.
The problem of nursing home abuse needs to be taken more seriously. We must recognize that many cases go unreported - sometimes because the residents are afraid that the nursing home staff will react and make things even worse for them or the abused victim may not have the strength or the mental capacity to report mistreatment.
Whatever the case may be, the fact is that these are vulnerable citizens and have a right to be treated better and with more care.
Reach Out to a Nursing Home Injury Lawyer in Camden, SC
Connell Law Firm is a family-run law firm. Our nursing home abuse attorneys have represented many victims of nursing home abuse in South Carolina and have ensured that these victims receive justice and compensation for their pain and injuries. It is our commitment to provide you with competent and passionate legal representation.
If you or anyone in your family is or has been a victim of nursing home abuse, call a nursing home abuse lawyer today at 803-310-5700 so that we can discuss the specifics of your case and determine the next course of action.
Our elderly abuse attorneys firmly believe that nursing home abuse is something that should be dealt with seriously. We also realize that many abuse cases go unreported. We encourage you to come forward, not only to keep your loved ones safe but to ensure that this behavior is not repeated again.
We all need to work together to highlight the negligent behavior of nursing homes and also to push the legal system to implement rules and regulations that would prevent the abuse from taking place altogether.
Together, we can make nursing homes safer for elderly patients, and we can minimize cases of abuse and neglect. Call one of our nursing home malpractice lawyers today and let us help you get the justice your loved one deserves.
Also Serving: