Nursing Home Abuse in Lugoff, South Carolina
Nursing home abuse is a common problem in Lugoff, South Carolina. Adult Protective Services in South Carolina receive thousands of reports each year notifying them of the abuse or neglect of elderly and vulnerable adults. In addition, rates of elder abuse and assault are also among the highest in South Carolina. Cases of abuse and neglect are especially prevalent in nursing homes. If you or your loved ones have suffered from nursing home abuse and neglect, you must consult a nursing home abuse lawyer in South Carolina as soon as possible.
Nursing Homes and Legal Requirements in Lugoff, SC
A nursing home is a healthcare facility which provides care and treatment for people who are not required to be admitted in a hospital, but at the same time, cannot be at home since they need quick and easy access to nurses and healthcare providers. There are different types of nursing homes. Some are designed more like hospitals and offer medical care, physical therapy, speech therapy and occupational care. There are other nursing homes which operate on a smaller scale and are designed to provide a feeling of home. They may not have services like occupational therapy or speech therapy nor would they have activities or a fixed day-to-day schedule. Finally, there are some nursing homes that cater to specific patients, e.g., those with Alzheimer's disease or those that allow couples to live together. While a large majority of nursing home residents comprise of older adults, nursing homes are ideal for anyone who requires access to 24-hour care.
When we talk about elder abuse in nursing homes, we basically refer to any mistreatment that results in harm to an older adult. This is not limited to physical abuse but also includes sexual abuse, violence, psychological abuse, financial abuse, and neglect.
All nursing homes that are licensed to operate in Lugoff are required to meet the minimum standards of care. The Nursing Home Reform Act clearly highlights what these minimum standards entail. Any nursing home that receives Medicare and Medicaid funding is required, by law, to ensure the well-being of each resident. Specifically, nursing homes are required to:
Promote the quality of life of all residents.
Treat all residents with dignity and respect.
Conduct a comprehensive assessment of the functional capacity of each resident.
Develop a detailed care plan for each resident.
Ensure that the resident's ability to perform daily tasks does not deteriorate.
Provide all necessary services to the resident with respect to their grooming, personal hygiene, and nutrition if the resident is unable to perform everyday tasks.
Provide residents care and treatment if they need assistance with their vision and hearing.
Prevent bed sores and infections.
Ensure that all residents receive proper nutrition.
Ensure that all residents receive supervision and assistive devices to prevent and minimize the risk of accidents.
Ensure that all residents remain hydrated.
Ensure that there are no medication errors by nursing home staff.
Ensure adequate staff levels so that the needs of the residents are met properly.
Provide residents with a healthy balance of care and activities.
Maintain accurate records and proper documentation for all residents.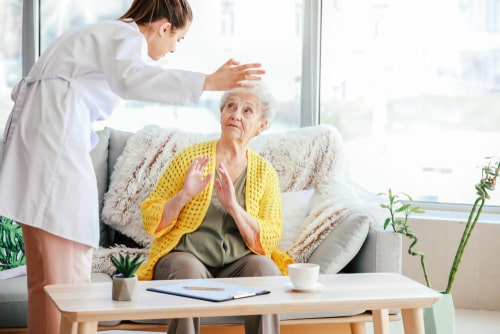 Nursing Home Abuse in Lugoff, SC
The prevalence of nursing home abuse in South Carolina is a source of concern for many families and older adults. People expect nursing homes and assisted living facilities to provide seniors a safe environment where they can spend the last years of their lives without any form of violence, abuse or neglect. Families turn to nursing homes to ensure that their loved ones are well-taken care of and have access to care and treatment 24/7. It is unfortunate that many nursing homes in South Carolina have failed to meet these expectations. There are several nursing homes that have recently been reported to have poor practices and standards and a high prevalence of abuse and neglect. These include:
Springdale Healthcare Center
Wildewood Downs Nursing and Rehabilitation Center
C M Tucker Nursing Care Center / Roddey
Blue Ridge in the Fields, LLC
Life Care Center of Columbia
Pruitthealth Ridgeway
Some of the primary reasons why nursing homes have failed their residents include:
Low staffing
Poorly trained healthcare providers
Low budgets and lack of resources
As nursing home abuse lawyers, we realize that families trust nursing homes to abide by the law and provide proper care and treatment to all residents, the sad reality is that a lot of nursing homes fail to do just that. It is the responsibility of the guardians and family members of residents to also check on their loved ones regularly. They should also keep their eyes and ears open for any signs of abuse or neglect. Often, older adults do not have the strength or the courage to tell people how they feel or what they might be going through. Family members in Lugoff who have loved ones in nursing homes need to take on a more responsible role so that they can catch any type of abuse at an early stage.
Some of the signs that you should be on the look-out for include:
Falls, fractures and head injuries
Infections
Malnutrition
Bed sores
Bed injuries
Dehydration
Agitation, non-communicative or withdrawn.
Wandering/elopement
Weight loss
Hesitation in speaking in front of nursing home staff
Unexplained injuries and wounds, cuts or bruises
Unexpected death
Unsanitary conditions
Sudden changes in behavior
Isolation
Sudden injuries that require emergency treatment or hospitalization.
Fractures and/or broken bones
Injury or death after a wandering episode
The biggest tragedy is that a large number of cases of nursing home abuse go unreported. Sometimes it's because the residents are too scared to file a complaint against a staff member; sometimes it is because the residents are so old that they can't even see that they are being mistreated, and sometimes the residents are suffering from medical conditions that result in forgetfulness. They may not even recall certain accidents or incidents that could have negative effects on their health. That is why it is important for families to be vigilant and observant.
If there is an incident, you must report it. This is critical, as this is the only way a South Carolina nursing home abuse lawyer can ensure that it does not happen again. There are people out there who will help you. If you have a complaint against a particular staff member, you can contact the administrators of the facility and express your concerns to them. If you think that the management itself is irresponsible and uninterested in resolving the issue, you can file a complaint with the South Carolina Long-Term Care Ombudsman. You can also contact the Department of Health and Environmental Control or Call the Department of Social Services.
At the same time, you should consult a nursing home abuse lawyer and provide them with all relevant details so that they can help you get justice. Keep a record of key events like the date, time and location when the abuse took place, how it affected the resident, who was responsible for the abuse, were there any witnesses, whether you spoke to the staff or administrators, etc. All these details are important to ensure that the facility responsible for such abuse is held accountable for their actions.
Contact a Nursing Home Abuse Lawyer in Lugoff, South Carolina
If you or somebody you know is a victim of nursing home abuse, you should report the nursing home and consult a nursing home abuse lawyer immediately. A nursing home abuse lawyer will ensure that the nursing home is reported and that action is taken against them to ensure protection for your loved ones. Our legal team is trained to investigate every case of nursing home abuse properly. We determine if the nursing home has had any previous cases of abuse or neglect. We also gather information from witnesses including nursing home staff and previous employees to find out how the nursing home generally operates and how they treat their residents. Then, we will review any other records that are available, and that may be relevant to the case.
At the Connell Law Firm, we understand that abuse at a nursing home can be traumatic for the resident as well as their families. We are here to help you, and we are committed to fighting for your rights. Let a nursing home abuse lawyer review your information carefully to determine if the nursing home facility has violated any federal and state regulations concerning the minimum standards of care. If there has been any non-compliance, you can be sure that our legal team will find it and will help you get the justice you deserve for mistreatment to you or your loved ones.
We have provided legal representation to numerous clients and have ensured that the voices of abuse victims are heard. The pursuit of justice is our goal. Our nursing home abuse lawyer has decades of experience and will provide you with competent and skilled legal representation. Call us today at 803-310-5700 and schedule a consultation. We will help you understand your options and how we can help you get justice for your loved ones.
Also Serving: